5 year anniversary of Solar Impulse 2 Atlantic crossing
Five years ago, on 23 June 2016, the explorer and innovator Bertrand Piccard made the world's first Atlantic solar-powered flight, flying from New York, USA to Seville, Spain on the 17th leg of the Solar Impulse 2 project's historic round-the-world voyage.
The flight, which used no fossil fuels and made zero emissions, broke four FAI records for distance, speed and altitude.
FAI RECORDS
Distance (5,8513km) for both Powered Aeroplanes and Experimental Technologies categories
Speed over a recognised course (80,6km/h)
Altitude (8,531m) in a Powered Aeroplane
The original flight path was set to mirror pilot Charles Lindbergh's transatlantic solo crossing from New York to Paris in 1927, however poor weather conditions meant that the Solar Impulse 2 was required to make its European touch down in Seville. The aircraft was welcomed into Spanish skies by the Eagle Patrol of the Spanish Air Force and landed at Seville International Airport at 07.38 local time.

Celebrating in Seville International Airport
In reference to this particular leg of the voyage, Dr Piccard commented:
"When Charles Lindbergh flew from New York to Paris, it was to promote commercial air transport. For me, the symbol was the same, but the goal different. I wanted to pave the way for a widespread use of modern clean technologies. The arrival in Seville, being welcomed by the Swiss and Iberian coloured smoke of the Spanish Air Force team, was magical. The first transatlantic solar flight was achieved!"

The flight lasted 71 hours and 8 minutes, flying a total distance of 6,765 km – a straight-line distance of 5,851.3 km between the two points.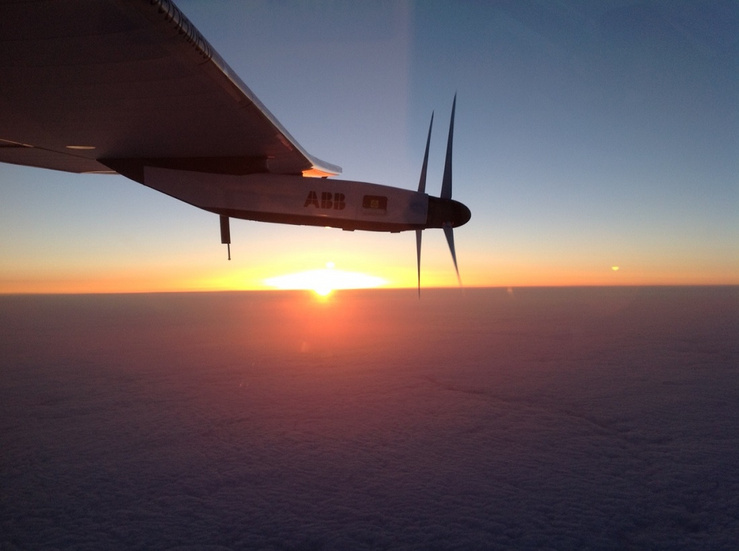 Sunset over the Atlantic
SOLAR IMPULSE'S ACHIEVEMENTS
Solar Impulse, co-founded by Dr Piccard and André Borschberg, successfully achieved a circumnavigation of the Earth between 2015 and 2016 in the Solar Impulse 2 – a total distance of 42,000km – powered only by the sun and making zero emissions. The aim of the project was to highlight sustainable energy solutions to combat climate change.

The project made history books and broke many FAI records, demonstrating the possibilities of the future of clean technology innovation. Launched in 2003, the project was 12 years in the making, with the Si1 prototype being unveiled in 2009. To start the circumnavigation, Solar Impulse 2 took off from Abu Dhabi, UAE, on 8 March 2015, and landed back in Abu Dhabi on 26 July 2016, immediately hitting the headlines around the globe.
SOLAR IMPULSE CIRCUMNAVIGATION ROUTE
Flight 1: Abu Dhabi, United Arab Emirates to Muscat, Oman
Flight 2: Muscat to Ahmedabad, India
Flight 3: Ahmedabad to Varanasi, India
Flight 4: Varanasi to Mandalay, Mayanmar
Flight 5: Mandalay to Chongqing, China
Flight 6: Chongqing to Nanjing, China
Flight 7: Nanjing to Nagoya, Japan
Flight 8: Nagoya to Hawaii, USA
Flight 9: Hawaii to San Francisco, USA
Flight 10: San Francisco to Phoenix, USA
Flight 11: Phoenix to Tulsa, USA
Flight 12: Tulsa to Dayton, USA
Flight 13: Dayton to Lehigh Valley, USA
Flight 14: Lehigh Valley to New York, USA
Flight 15: New York to Seville, Spain
Flight 16: Seville to Cairo, Egypt
Flight 17: Cairo to Abu Dhabi, United Arab Emirates

Images: ©Jean Revillard/Rezo/Solar Impulse Foundation