"Everything can change in a few seconds" Junior Champion Xavier Segarra Zorilla on F2D Combat
In the fast-paced FAI Control Line Combat category, the two agile pilots inside a circular boundary weave around one another to keep their aircraft aloft and score points against their opponent. Quick-witted attack and defence tactics are deployed as the planes twist and turn in the sky. The pilots wear helmets for protection and the audience watches in safety from behind a high barrier.
During the four-minute flight, each pilot's aim is to keep their aircraft aloft and score as many 'cuts' against the streamer attached to their opponents' aircraft as they can. There are 100 points available for each streamer cut. For every second of flight, the pilots gain two points. If by the end, the opponents are within 10 points of each other, it is considered a tie.
Sixteen-year-old Spanish pilot Xavier Segarra Zorilla was proclaimed junior champion of F2D Combat at the recent 2023 FAI F2 European Championships for Control Line Model Aircraft in Poland. Xavier initially became fascinated by photographing model aircraft, enthralled by this dynamic yet graceful sport, yet once he changed position and swapped a camera for the aircraft controls, he was hooked! We found out more about his passion for flight:
Young pilots are often introduced to aeromodelling through family or a friend. Tell us, how did you get into aeromodelling?
I started as a photographer - I loved to take pictures of models flying. After meeting the F2 team I asked if I could try flying. They were so happy to show me how F2D works. And I loved it! So here I am now... I can say it was absolutely not expected, but what luck to have asked for a test flight three years ago!
Tell us a little about what you find interesting about Control Line Combat and why you chose this exciting high-speed category.
Combat is an amazing category, it's a science-sport that requires mental and physical skills as well as a high level of discipline. It is also pure adrenaline. Everything happens very fast and any little detail can change everything in few seconds. Also, the Spanish team is one of the greatest, most friendly and united teams. The people who taught me have become great friends!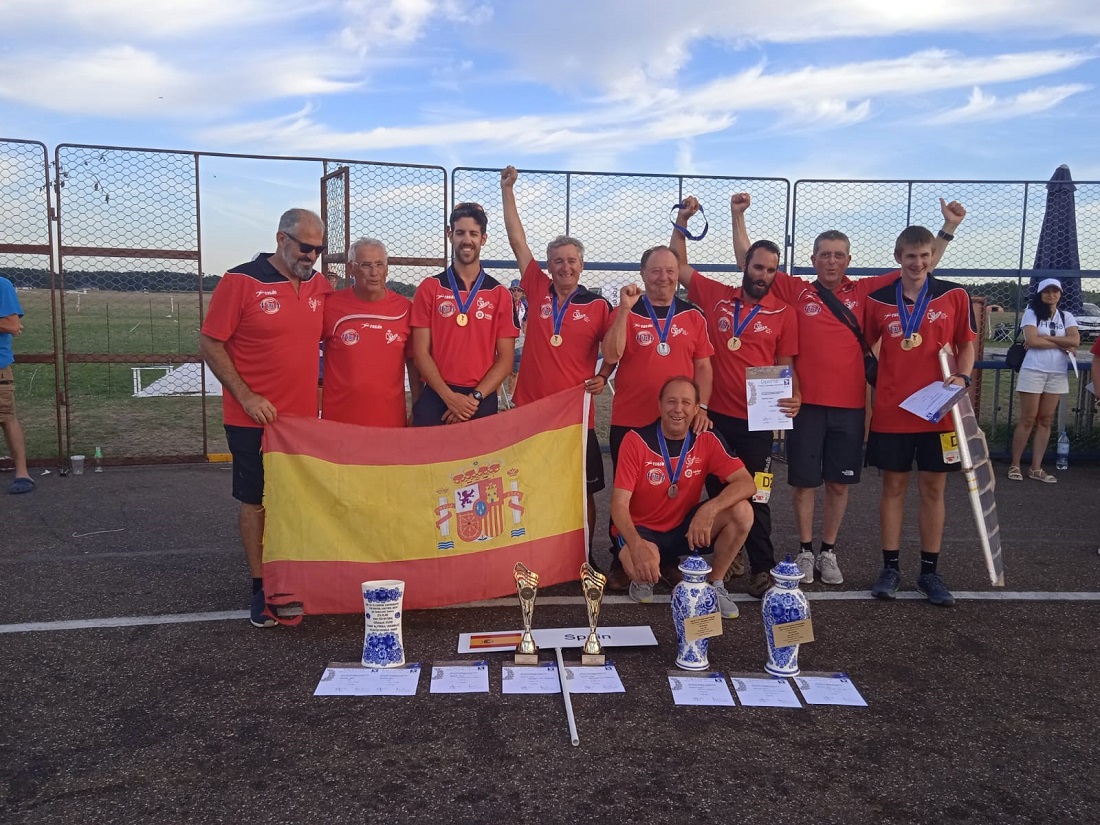 Were you expecting to win a gold medal at the European Championships, or was it a surprise?
Well, we worked hard towards that purpose. We trained every day with the European Championship in our minds. It's not like I was expecting victory, but it was definitely the main goal!
How do you manage to fit in time to train alongside your schoolwork, and approximately how much time to do dedicate to flying during a typical week?
My priority is always school; during the week I am focused on my schoolwork. I normally choose one afternoon a week to prepare my equipment and repair models. Then during the weekend, I fly my models and do training exercises to improve my technique. Actual flying takes up approximately 6-7 hours per week.
Do you think might you choose a career in aviation because of aeromodelling?
I might do! I love all that is related to flying, and I also love engines and motors. But who knows what I will end up doing in the future…
Will you continue to compete as a Senior, in the same category?
Yes, of course, the goal is to keep improving and challenge the best pilots in the world!
FAI wishes Xavier the best of luck in future aeromodelling competitions.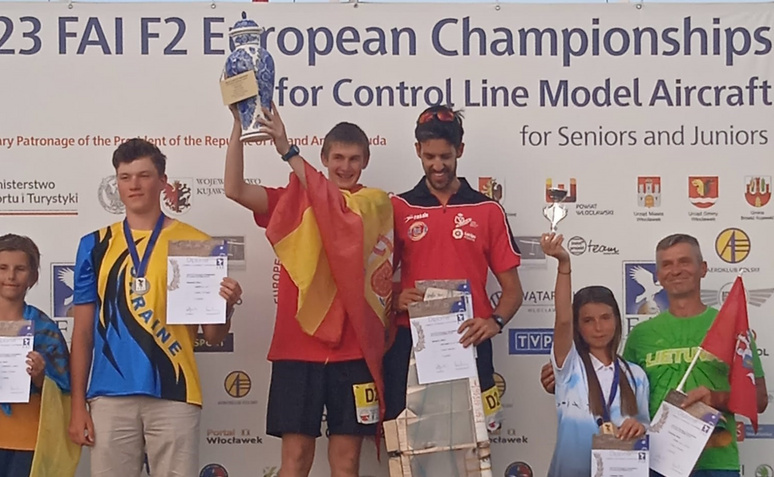 Images supplied by Xavier Segarra Zorrilla
Xavier holding the trophy at the 2023 FAI F2 European Championships