Nature and nurture: the secret to the Gallet brothers' aeromodelling success
The two Gallet brothers from France each became champion in their category at the recent 2023 FAI F5J World Championships for Electric Powered Thermal Duration Gliders in Bulgaria: Adrien, aged 20, in the seniors, and his 12 year old brother Romain in the juniors. The remarkable double gold medal win came as rather a surprise, though Team Gallet are no strangers to competition, as we found out during this interview with Romain, Adrien, and their father, Guillaume, also a model aircraft pilot. What's the secret of their success? Is aviation in their DNA or have their talents been finely honed over many years? The answer is, both...
Congratulations to both Adrien and Romain on your World Champion titles! Were you expecting this result?
Romain: I felt that I was capable of qualifying for the fly-off but I didn't think I'd be on the top step of the podium.
Guillaume: Yes, we were also very surprised and of course very proud of them both. In fact, Adrien taught Romain, who has always spent lots of time with his brother, so it was he that coached Romain for the competition, except for with the fly off.
Adrien, do you mostly train together?
Adrien: We try to fly together to train and progress alongside one another as often as possible. It's an advantage to be able to fly as a family with my younger brother and my father, so we always have challengers when training. That way we certainly progress quickly. I coached Romain for the qualification flights for this world championships. Then for the fly-off, we decided that I would coach Nicolas Chansard who I have also been helping since his first flights.
You must be pleased for your brother winning the junior category.
Adrien: I'm really happy for him and also really proud. He did what I never managed to do, when I was a junior.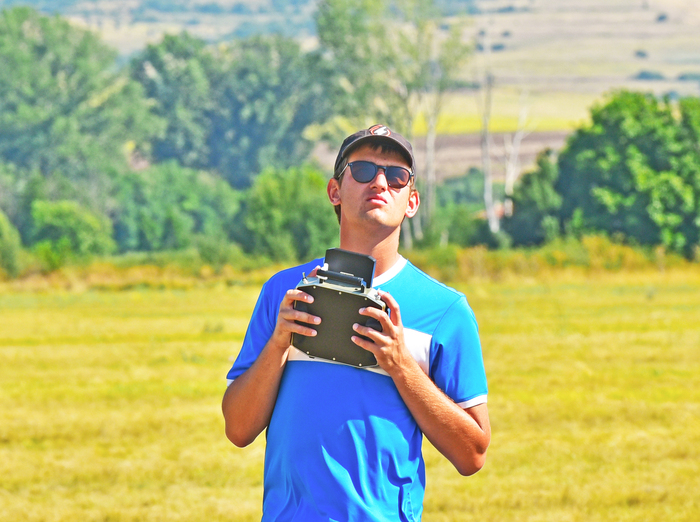 Adrien Gallet, F5J World Champion 2023
Guillaume, how did the boys get into aeromodelling?
Guillaume: Adrien has always been interested in aeromodelling, he start piloting at three years old and has always been keen on construction; even as a small child he wanted to stick balsa! Romain first tried at six years old and started more seriously at eight. Romain has a love of flying, whether it's a glider or a plane. In winter he practises indoors, racing and doing combats with his friends from the club.
In fact aeromodelling has become a family activity, we fly practically every weekend. The youngsters are also lucky enough to fly with their grandfather or other members of the club, especially during school holidays.
How much training do you do, and how many events do you compete in to maintain your level of flight performance?
Adrien During the year I participate in around ten competitions in France and one or two abroad, depending on the year. As far as possible I try to train every weekend, mostly Saturday afternoons. When I'm on holidays, I will try and fly at least every other day. That said, I also fly for 'fun' and so I regularly fly with other models aside from those in competition.
Romain: Training varies with the weather, normally we fly every Saturday and Sunday, as well as in the evenings in summer. We mostly fly planes but we have done some air-tow soaring gliders in F3L.
What made you interested in the F5J thermal duration gliders category of aeromodelling, and what other classes have you tried (Adrien was awarded the CIAM Aeromodelling Scholarship in 2022 for his construction of models in F5J and F3K).
Guillaume: We started competing when the F5J was developed in France, doing the first Coupe de France in F5J in 2014.
Romain: I do F5J because I have been going to competitions with my father and brother since 2013 and competing myself since 2019. But I also do competitions in F3L radio-controlled thermal soaring gliders and F3K, hand-launched radio control gliders.
Adrien: It's always enriching to try other types of model - I also fly F3L radio-controlled thermal soaring gliders which is a superb category for promoting longer flights. In fact I'd like to see this category develop further in France. Depending on the year I also do a few F3K competitions for radio-controlled hand launched gliders. I also love construction and for a few years I've been passionate about constructing half-scale gliders.
It is very surprising that two brothers have won the title of World Champion at the same time and in the same class! Is there a competitive atmosphere between you, or not yet because you're in different categories?

Romain: Generally we are already in competition with each other because the juniors fly with the seniors, and I like being ahead of him in the ranking.
Guillaume: Romain tries to beat Adrien. Although Adrien won't make it easy for him!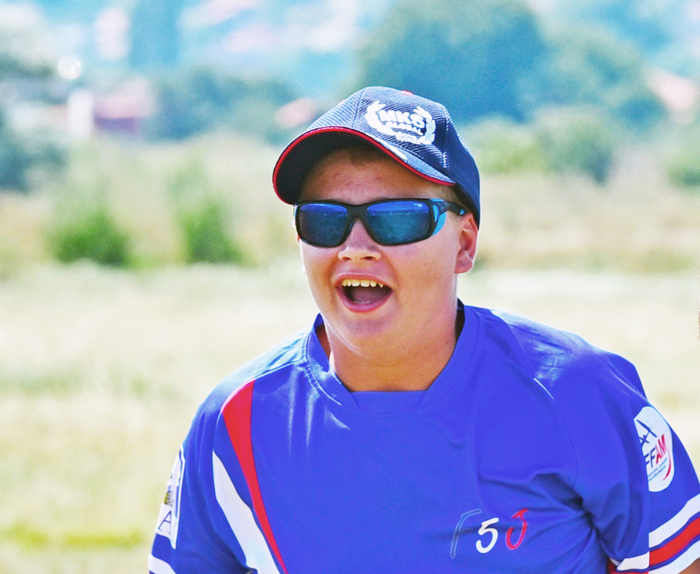 Romain Gallet F5J aeromodelling champion 2023
Do you think that aeromodelling helps your studies; might you choose a career in aviation because of aeromodelling?
Romain: Aeromodelling helps me to relax. For the moment I don't know what I want to do later on.
Adrien: I am doing a university bachelor's degree in mechanical and production engineering. From September, I will be continuing my work-study program in a fixed-wing drone company. So yes, you could say that my studies will be directly linked to my passion! I am thinking of continuing to compete when my studies allow. I would like to go and defend my world champion title in 2025 in Argentina, although it won't be at all easy!
Guillaume: Schoolwork remains a priority: if their marks aren't good, they can't compete!
With such structured support and natural enthusiasm, we are sure the Gallet brothers will continue to succeed in aeromodelling!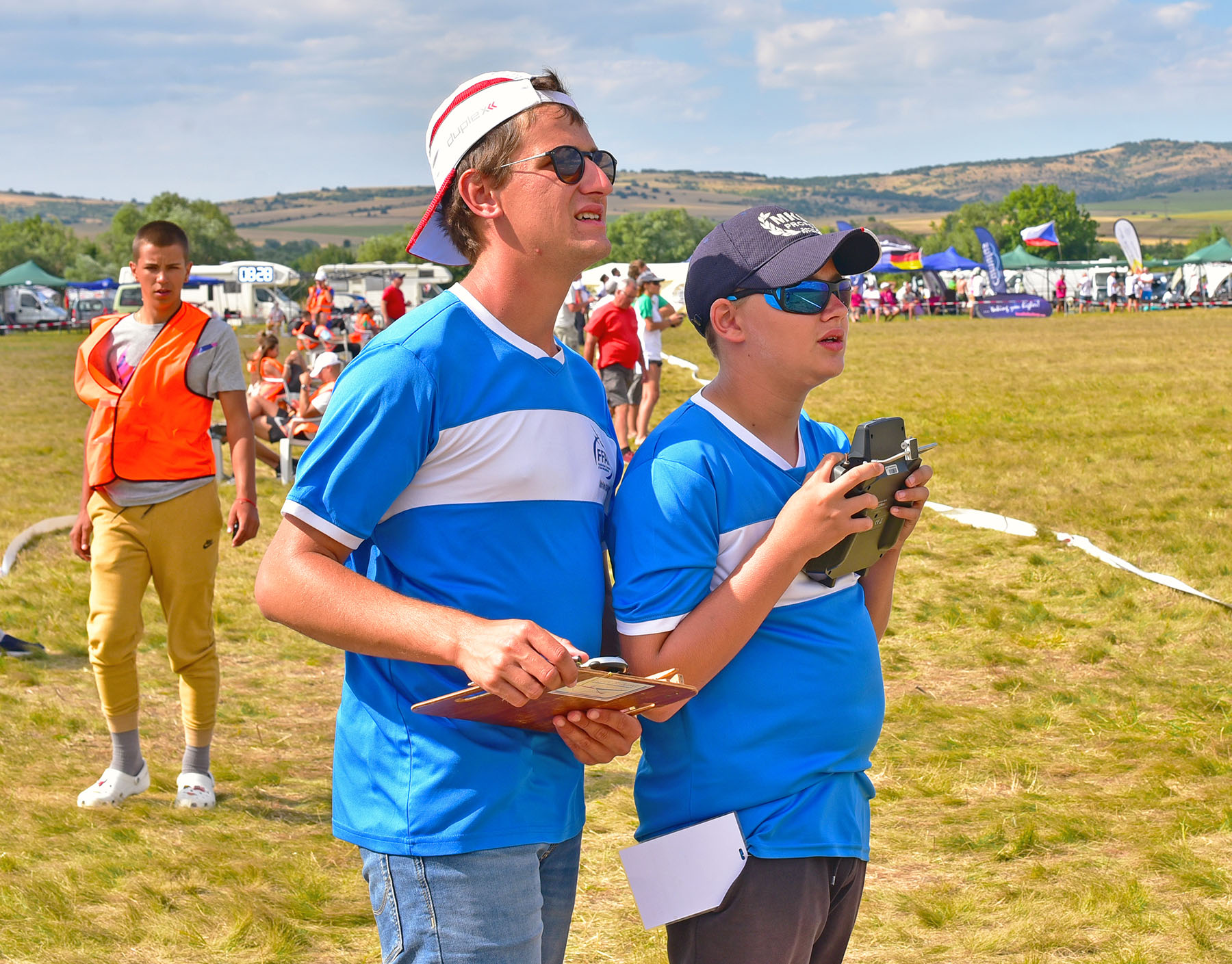 The Gallet Brothers competing in Dupnitsa, Bulgaria, 2023
Header image: Gallet family. Other images: Antonis Papdopoulos, CIAM President.