Mélanie Gadoulet, IGC Champion Pilot of the Year 2019
French pilot Mélanie Gadoulet has been awarded the IGC Champion Pilot of the Year 2019. She received the World Soaring Cup 2019 at the Annual Meeting of the FAI Gliding Commission (IGC) earlier this year from IGC President Eric Mozer.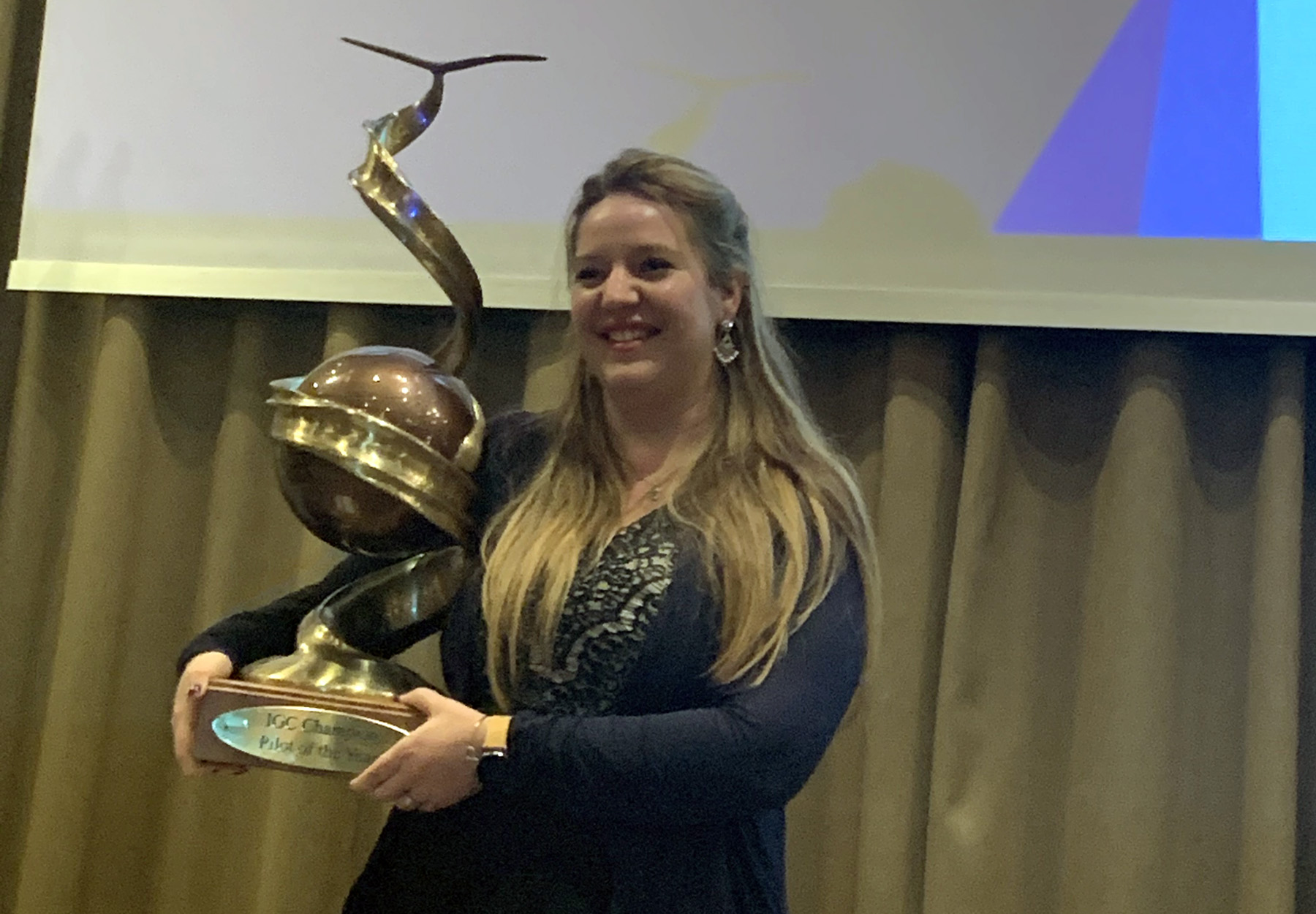 The champion of champions
Mélanie was selected from the Champions in all classes of the qualifying competitions of the 2019 season, based on a formula decided by IGC.
The contenders for the IGC Champion Pilot of the Year 2019 were:
Junior World Gliding Champions Jake Brattle (GBR) in club class and Simon Schröder (GER) in standard class
Italian Pilot Stefano Ghiorzo, World Gliding Champion in 13.5m class
Women World Champions Elena Fergnani (ITA) in club class, Sarah Arnold (USA) in standard class and Mélanie Gadoulet (FRA) in 18m class.
Early career
Mélanie, 25, started gliding at 16, thanks to a high school option of learning to fly gliders. Not yet a vocation, she chose this option in order to accompany a friend.
She was later contacted by the French Gliding Federation (FFVP) to participate in detection training at the CNVV in Saint Auban.
25 years old and already a World Champion
"Today, I still can't believe how far we have come. 10 years after my first glider flights, I am world champion at 25. It's incredible. I never wanted to participate in glider competitions because I did a lot before in swimming, but the Federation encouraged me and by dint of perseverance, I'm here today and I can now no longer live without it. Fate and time got it right!"
Mélanie participated in her first women's world championships in 2015, in standard class, following the withdrawal of one of the permanent members of the French team. She finished 5th, as she did in 2017, in the 18m class. In 2019, Mélanie won in the 18m class, with a competition that she describes as "perfect", with her teammate Anne Ducarouge. And for the 3rd consecutive time, the French brought the Team Cup home.
"I was so looking forward to going to Australia because the weather is great there, and I love to fly fast, to achieve the best average speed possible. I found that the Australian heavy weather is perfect weather for me. I discovered it on the spot and I truly let off steam in such conditions!"
Personal sacrifices
A qualified dietician since 2017, Mélanie devotes her holidays to gliding, training or competitions. This gold medal is the result of personal sacrifices.
"In flight, I find a sense of freedom, and in glider competitions, one can surpass oneself and achieve a feeling of personal accomplishment at the end of each flight. I love it and I will sign for many more years to fly at the highest level."
A special dedication to her father
"I wish to dedicate this victory in the world championship but also this IGC Champion Pilot of the Year title to my dad, who died of cancer in September 2018. It is an honour for me to win this important trophy which I also dedicate to my whole family, who has always supported me in my sport."
Congratulations to Mélanie Gadoulet!